Here's an EASY waffle rendition you should try the next time you have a free morning, a cozy corner and a lotta self love to give.
1 box of gluten free waffle mix
use 3 tbsp chia seed to replace the eggs +
1 +1/4 cup water or almond milk (this replaces the liquid from the milk and the egg)
1 Tbsp vegan butter or coconut oil *this is optional. The waffles will stick better to the waffle iron if you use butter or oil, I you don't you'll experience what I did which is a "sticky waffle" and you'll have to manually peel it off of the iron (I was willing but it was a little annoying – up to you if you want the extra oil or not).
1/2 cup chopped peaches / can use blueberries or another fruit you like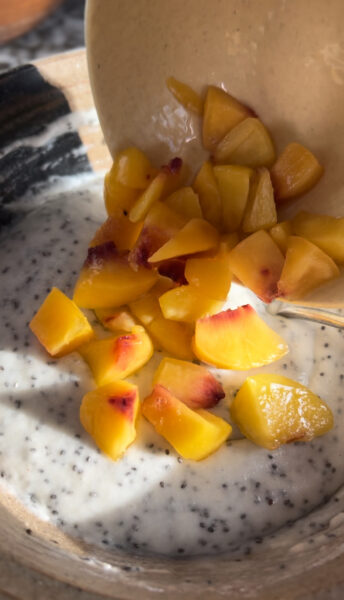 Mix all your ingredients and warm your waffle iron until the green light appears and then pour enough mix to cover the inner circle of your waffle iron with roughly an inch of space from the outside edge – this allows your waffles to press and expand.
Enjoy your sweet morning with a banana + spiralina smoothie – this is simply 2 small frozen bananas + 1 tsp spirulina and about a cup of water then blended. The less water the more creamy.