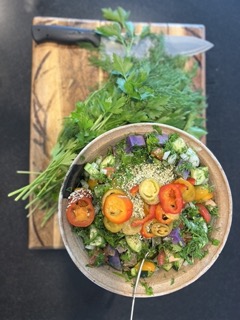 This salad was a peace meal offering. It was so delicious and used all the veggies in my hydrator drawers.
Ingredients
1 cooked Okinawan purple sweet potato
1/2 white onion
1 peeled cucumber – quartered
1/2 large bunch of parsley
1/2 large bunch of dill
Handful of grape tomatoes – halved (I also added 1 whole tomato)
1/4 cup hot cherry peppers
1-2 Tbsp hemp seeds
Dressing
2 Tbsp apple cider vinegar
1 Tbsp tamari
1 Tbsp maple syrup
1 Tbsp stone ground mustard
black pepper + sea salt to taste
Method
I prepared the salad in advance and dressed it about 15 minutes prior to eating. Enjoy!