Simple, delicious. Damn healthy. It's a feel good one, friends, with notes of unctuousness, texture, Omega fatty and sweet. Enjoy, from my heart to your belly,
Katie
Your ingredients:
2 large bananas – mashed
1 large zucchini – shredded
2 cups of freshly ground flax seeds (aka flaxmeal)
1 Tbsp coconut oil
1 tsp baking powder
1 tsp sea salt
1 tsp cinnamon
1 tsp turmeric powder
1 tsp fenugreek seeds
1/2 tsp black pepper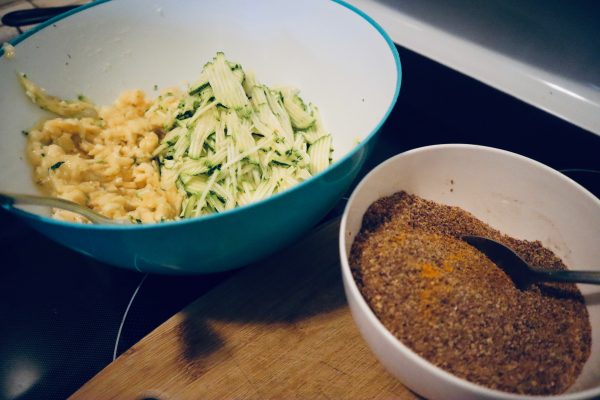 ~ mix everything together well
Preheat your oven to 350, add mix to a greased bread loaf pan (I used coconut oil) and bake for 60 minutes. 
Meanwhile, whip up your walnut frosting
2 cups of walnuts
1.5 Tbsp powdered Swerve – this is a sugar free replacement made from Non GMO Erythritol.
Process in your Cuisinart until well blended and "frosting like"
Allow your bread to cool for about 20 minutes before cutting into it. Top with Walnut Frosting. Eat in a sunny spot, along with an Yerba Mate or delicious green juice.
Why these ingredients?
Zucchini is an incredibly versatile vegetable/fruit with a high water content. Did you notice this recipe didn't call for any liquid? That's why! Zucchini is also very low in sugar and is considered a non-starchy vegetable that is low in carbohydrates so it won't raise your blood sugar.
Flaxmeal is an excellent baking ingredient. It's excellent for digestion and something I consume often. Nutrients in flaxseed include lignans, antioxidants, fiber, protein, and polyunsaturated fatty acids such as alpha-linolenic acid (ALA), or omega-3. In fact, flax contains the highest omega 3 fatty acid content of ALL the nuts and seeds (Chia seeds, Cacao and Walnuts are others) and binds to liquids kind of like eggs do.
Fenugreek is taken for digestive problems such as loss of appetite, upset stomach, constipation & inflammation. Fenugreek is also used for diabetes, painful menstruation & polycystic ovary syndrome. It is also used for conditions that affect heart health. Fenugreek is used for kidney ailments and exercise performance – it's definitely worth tossing into your food from time to time! source
Cinnamon is super medicinal and helps with inflammation and has anti-diabetic affects. Cinnamon also contains antimicrobial & antiparasitic properties.
Enjoy the rest of your day. XO