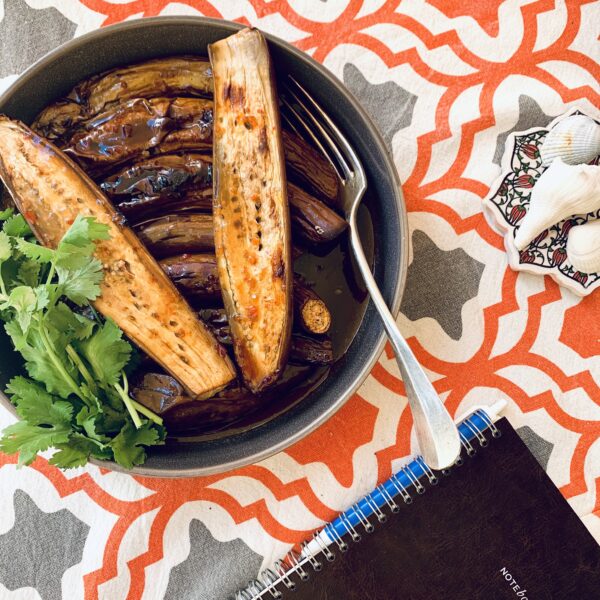 Okay. So.
It's been a while since I've blogged a recipe. Admittedly – over a month. There was travel and family and chaos involved but none the less, lots of eating – therefore I'm overdo. Here's a take on a recipe that in truth is just me winging one of my favorite take-out meals. Eggplant in Garlic sauce – but only kinda. Have at it friends, it's certainly the healthier version.
Ingredients & Method:
4-5 long baby Japanese eggplants – these grow like crazy in Hawaii but if you're elsewhere on the planet and don't have an Asian market close by, modify with regular eggplant and just slice it up more.
de-stemmed and laid out in a baking dish – keep the small ones whole but if you only have access to large bulbous eggplants, buy 2 and cut them in half or quarters.
Preheat your oven to 390 degrees
Sauce:
1/4 cup sweet chili sauce (found at most grocery stores, Whole Foods sells a decent version but Mae Ploy is typical a go-to)
2 Tbsp tamari, soy sauce or braggs
1 Tbsp maple syrup or honey
1 Tbsp rice vinegar
1 Tbsp sesame oil (I used dark)
1-3 cloves of chopped fresh garlic
Mix well in a small bowl and pour over your eggplant
Bake eggplant for 35 minutes then broil for an additional 10 minutes until the eggplant gets completely cooked through. The broiling adds that crispy edge that I find delightful in veggies (kinda like charred meat – but lets talk about that in a future post….). Serve as is, add cilantro, with white or brown rice, as a main meal or as a side. Can't fail.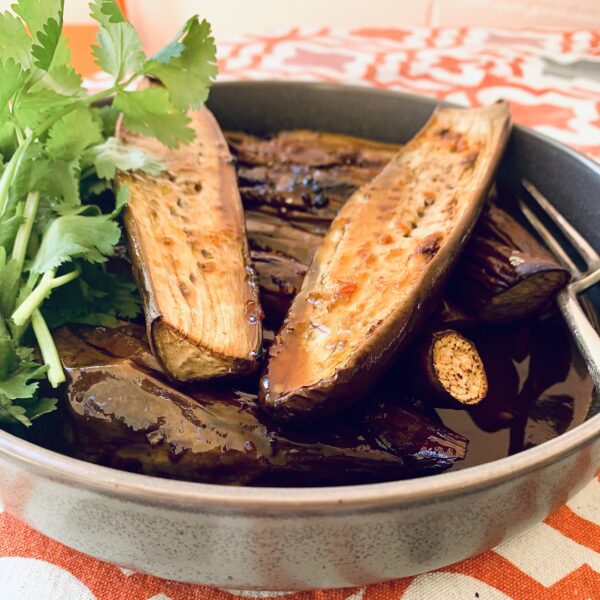 xo Katie