Body Blend Smoothie Bowl – nom digs boo!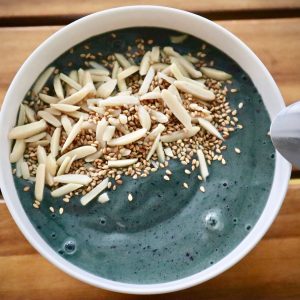 2 Tbsp Body Blend
2 frozen bananas
1 cup of frozen blueberries
Top with water (no more than to cover the fruit so that your smoothie bowl comes out creamy like ice cream)
Blend and add to a bowl – top with anything you like – I used a combination of sesame seeds and chopped, blanched almonds.
Sugar free Protein Cup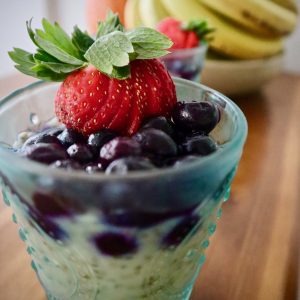 1 Tbsp Pea Protein
1 Tbsp Chia Seed
1 Tbsp erythritol or honey
1 tsp vanilla powder
10 oz unsweetened plant based milk
Stir & Set for 10 minutes Top with fresh or frozen berries and refrigerate until you're ready to eat!
Simple Yogurt Bowl using Forager Project Cashew Milk Yogurt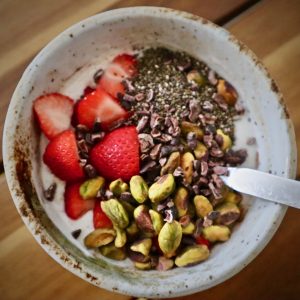 1.5 cups of unsweetened plain yogurt
4-5 drops of stevia or 1 tbsp of raw honey
5 strawberries, washed and sliced
2 Tbsp pistachios
1 Tbsp of chia seed
1 Tbsp cacao nibs
Mix the yogurt with your preferred sweetener then top with your fruit and crunchy seeds. Enjoy with a Suja green juice or your favorite chlorophyll rich bevy and eat to your health and intentions.
Minty Nice Cream with secret ingredients!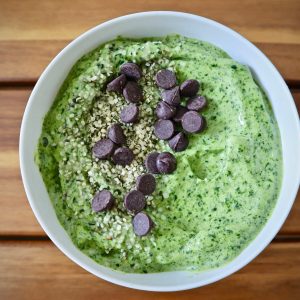 3 frozen bananas
1 cup frozen spinach
2 drops of peppermint extract
plant milk of choice, start with 1/4 cup and add more if necessary
Add all ingredients to a blender – try and use as little plant milk as necessary so your nice cream comes out creamy! Add contents to a bowl and top with sugar free chocolate.  I love Lily's!
XO Katie