Ingredients
1 cup

Cocoa Powder

1 ½ cup

Lakanto Monk Fruit 1:1

*1/2-3/4 cup

chia seed,

use this if your batter looks too thin

½ teaspoonsea salt

1 teaspoon baking soda (or 3 tsp baking powder)

1 cup rice milk

1 cup hot water

1 teaspoon vanilla extract

½ cup coconut oil
Method
Heat oven to 350°F (325°F convection).

Grease and flour one 9-inch round baking pan.

In a large bowl combine: flour, cocoa, sugar, sea salt, and baking soda and set aside.

In stand mixer using paddle attachment combine rice milk, hot water, vanilla extract, and coconut oil.

Add the dry ingredients until batter is consistent.

Pour batter into prepared pan.

Bake for 45 to 50 minutes or until the wooden pick inserted is clean.

Cool for 15 to 20 minutes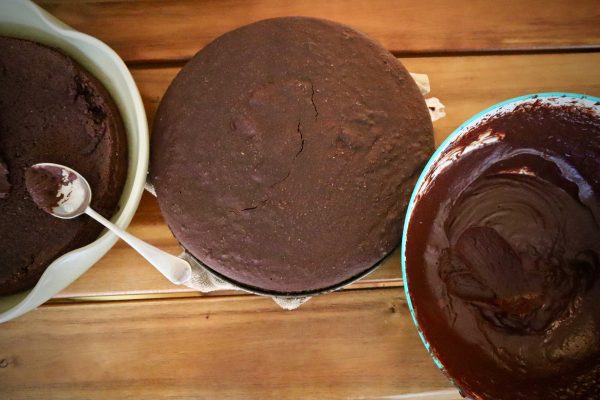 Sugar Free Frosting
2 sticks of unsalted butter, softened
1/4 cup Lakanto Monk Fruit
1/4 cup honey
9 oz Lily's unsweetened dark chocolate chips
1 Tbsp organic corn starch
1 Tbsp rice milk
Method:
Combine butter, honey and monk fruit. Beat using a hand mixer until whipped.
Melt Lily's chocolate over a double boiler
In a separate small dish, combine corn starch with rice milk
Pour melted chocolate into butter mixture, mix on high, while mixing pour in corn starch and allow to thicken slightly. Allow to cool. Wait until the cake is completely cooled before icing.
Almond Apple Crumble:
2 cups of dried apple chips
2-3 Tbsp almond butter
Process apple chips in the food processor, once crumbled and powdery, add almond butter. Contiue to process until it's a desired consistency. Top on the frosting of a cake or use for other creative treats: ice cream, over fruit, by the spoonful…