Dates, Oats, Carob, Maca, Sea Salt, Vanilla & Bee Pollen – an antioxidant powerhouse of a TREAT!
Read below for all the health benefits I've packed into these bite size bits and how you can make this delicious treat too!
xo Katie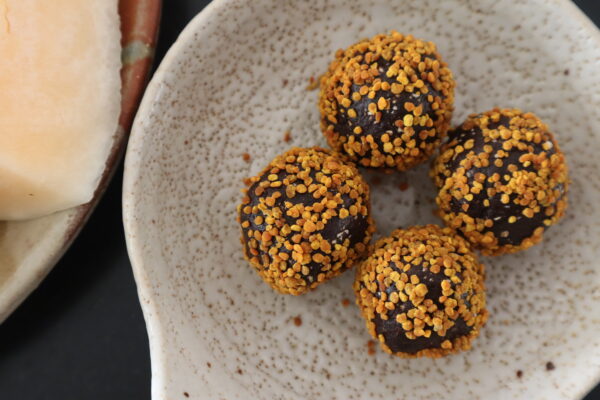 Ingredients:
20 pitted medjool dates
3/4 cup raw oats
3 Tbsp Carob Powder
1 heaping Tbsp Maca Powder
Pinch of sea salt
1/4 tsp vanilla
Bee Pollen (for rolling)
*read below for all the impressive health benefits of all these ingredients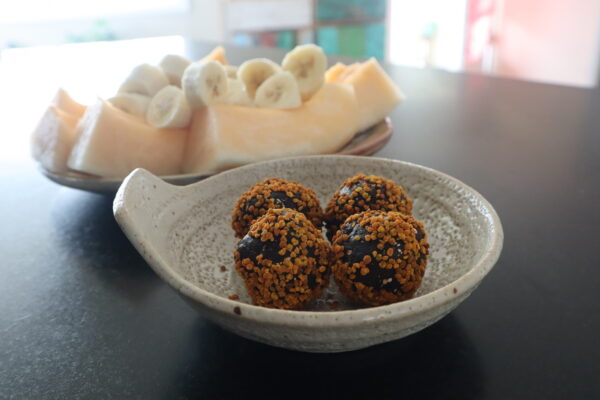 Method:
Add all ingredients to a Cuisinart or food processor
Process continuously until a thick dough ball forms, turn off.
Roll dough into balls and then roll into bee pollen
Keep refrigerated – they'll store well in the fridge but they won't last for obv reasons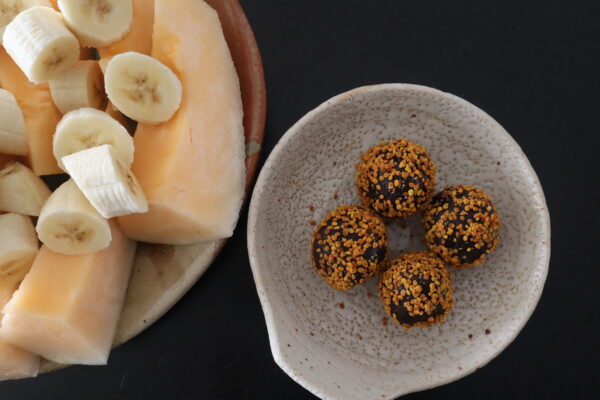 contains over 250 biological substances, including protein, carbs, fats, vitamins, minerals, enzymes and antioxidants
may protect cells from damage caused by free radicals that are linked to chronic diseases, including cancer and type 2 diabetes
may help lower heart disease risk factors such as "bad" LDL cholesterol and lipid oxidation
protects the liver from harmful substances and boosts liver function
anti-inflammatory
may reduce the severity and onset of allergies and kills harmful bacteria
may promote wound healing – antimicrobial properties may also prevent wound infections
lowers risk of several cancers
alleviates menopausal discomforts, including hot flashes
may also improve cholesterol levels
may enhance the absorption and utilization of nutrients like iron, calcium and phosphorus
may speed up metabolism and promote longevity
helps the body manage stress
may increase dopamine levels and improve depressive symptoms & improve energy
may help with peri-menopause and menopause due to its adaptogenic properties and targeting estrogen balance
may increase bone density
may increase libido due to aphrodisiac properties
helps with male fertility because men who take maca are shown to produce more sperm
improves gut health – fiber!
prevents chronic disease due to high antioxidant levels
boosts brain health – better memory, improved learning and less anxiety related behaviors
may help with natural child birth by stimulating oxytocin receptors
great for skin – "The date palm kernel cream reduced the size and depth of their wrinkles," source.
healthier alternative to refined sugar
* biased review – I adore dates and eat them weekly if not daily often substituting them for sugar cravings
I don't eat chocolate and this is why – therefore I substitute with carob and my skin and GI are better for it.
rich in tannins that combat toxins in the gut and help proliferate health bacteria
shown to control the secretion of the hormone ghrelin (hunger hormone)
8% protein and contains vitamins A, B, B2, B3 and D
it's low in fat
low in sodium
contains calcium but not oxalates (compounds that reduce your body's ability to absorb calcium – so it's unlike chocolate in this respect)
high in fiber
caffeine free
won't trigger migraines – this is because it's free from tyrosine, an amino acid that causes severe headaches
*use as a 1:1 substitute for chocolate – I LOVE carob!
Try playing around with these ingredients, substitute other herbs and adaptogens that you love – chaga, cordyceps, reishi or ashwaghanda.
xo
Katie