Let's explore some simple and quick to prepare meals that warm the heart and fuel those intentions. Everything here is wholesome to boot and can be eaten year round, at any time of day. Each of these dishes is loaded with fiber, invigorating spices, easy to find ingredients and happen to be inexpensive.
Stewed Pumpkin Oats
I made two batches of this pumpkin oat porridge using 1 can of organic pumpkin puree. Measurements weren't exact (are they ever Katie?) so let your eyes be your guide as usual.
Ingredients:
3/4 cup oats
1/3 cup pumpkin puree
2 tbsp chia seeds
big pinch of salt
ginger and cinnamon to taste (a few dashes of each)
Optional: add a few pitted medjool dates and/or some chopped apple
Method:
Add all ingredients to a medium pot then add water to cover oats just enough to soak them, don't overly saturate them. There's plenty of pumpkin to act as a liquid. Bring to a boil, reduce to a simmer and cook for 5 minutes. Remove from heat and pour a ration (or all of it) into your favorite bowl, allowing to cool (or you'll pay the price). Makes roughly two small servings or one happy healthy and hearty snack or breakfast.
Bok Choi with White Beans & Chili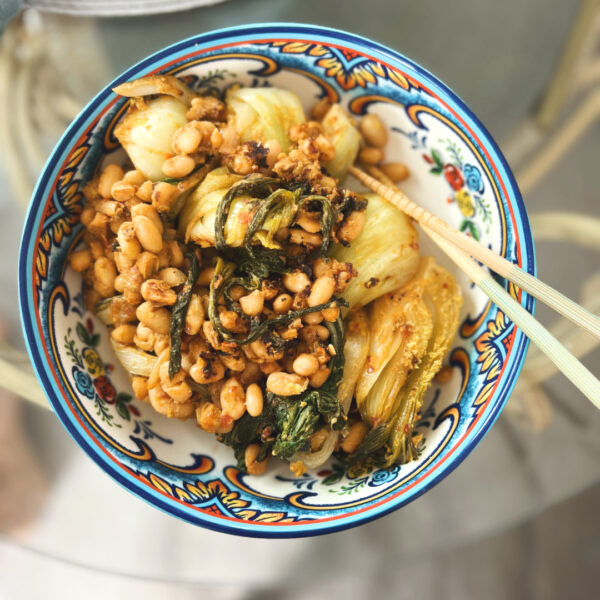 Ingredients:
4-5 bok choi bunches, cut into quarters
1 can of white cannellini beans
1-2 T soy sauce / or tamari
1 T sesame oil
1 T chili sauce
1 T rice vinegar
Nutritional Yeast – to taste
salt and pepper
Method:
Heat a cast iron over medium high heat, add your oil and bok choi and cook until just tender. Add the beans, spices/condiments and adjust salt to your liking. I added some nutritional yeast while it was cooking, maybe 1-2 T, or just sprinkle some in to your liking. Eat hot and savor.
The simplest wholesome meal, breakfast or dessert you'll ever make: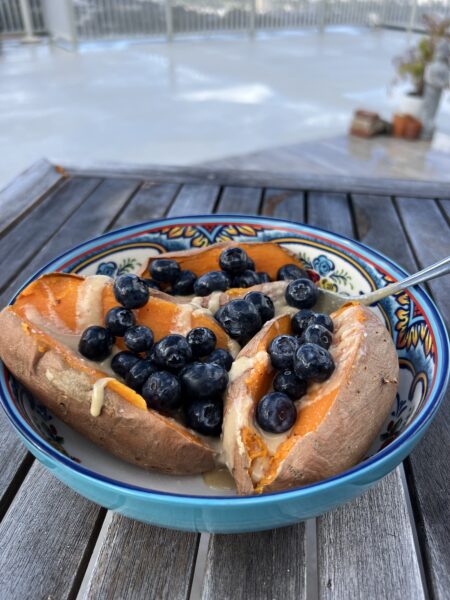 Ingredients:
Roasted sweet potato (I always make several at a time for leftovers)
Macadamia Nut Butter
Blueberries
Optional: cinnamon, ginger, cardamom etc
+ sea salt
Method:
Roast potatoes at 400 degrees for 40 minutes or until super soft on the inside. The softer = the sweeter. Drizzle with macnut butter (alternatively – use tahini) and sprinkle a heavy hand of blueberries on top. Enjoy!
Beet Noodles!
I made these as an impromptu dinner and adventurous company. I had some beets, leftover papaya seed dressing and some mung thread noodles. I added a bit of kale to the mix for good measure! This dish took a creative spin but hey – I did the heavy lifting here, you can just sit back and enjoy (or tinker to your liking).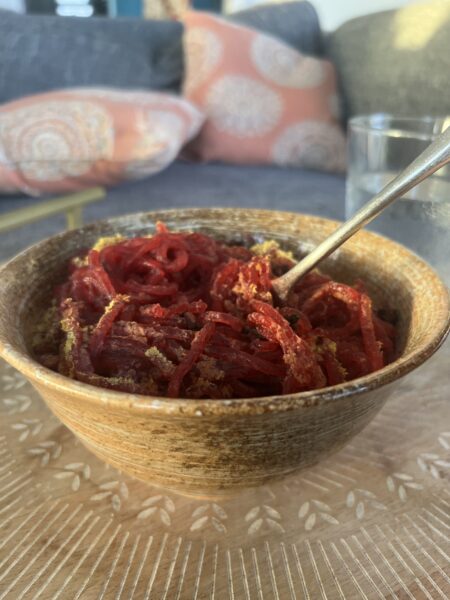 Ingredients:
Mung Thread Noodles – available at Costco or the Asian section of the supermarket
2 packages of Love Beets – or 5-6 small boiled and peeled beets
1/2 cup papaya seed dressing*
2 cups of chopped kale – steamed separately
sea salt + cracked black pepper
Method:
I blended the beets with the dressing. The dressing was made with raw onion so I figured if I warmed up the puree it would cook the sharp flavor of the onion down and smooth it all out. By golly it worked!
*The dressing: 2 small onions, 1/2 cup papaya seeds, 1/2 cup apple cider vinegar, 1/4 cup sesame oil, 2 T honey, 1 T mustard, 1 pinch of salt – blended until smooth.
If the above is too laborious use whatever flavorful sauce or dressing you might have handy. Maybe a teriyaki sauce or some kind of asian marinade would work. Let your creativity soar – think: what flavor combinations go well with beets? Citrus, garlic, salty and herbs…
Steam your kale – 1-2 T water in a pot with a lid. Wait for that emerald green color to pop and it's done.
Meanwhile add the mung thread noodles t0 boiling water and cook on medium for 5 minutes. Remove from heat and continue soaking the noodles for 10-15 minutes in the hot water. Drain the excess water (a lot of it gets absorbed) and set noodles aside.
Add the beet puree to a pot over medium high and heat until bubbly.
Add the noodles and stir.
Add the kale and mix gently to incorporate.
Adjust salt and add some nutritional yeast if you like. Enjoy in good company!
Let me know if you make any of these dishes – may they inspire some spunk and joy in your day.