Marinated Cucumber Salad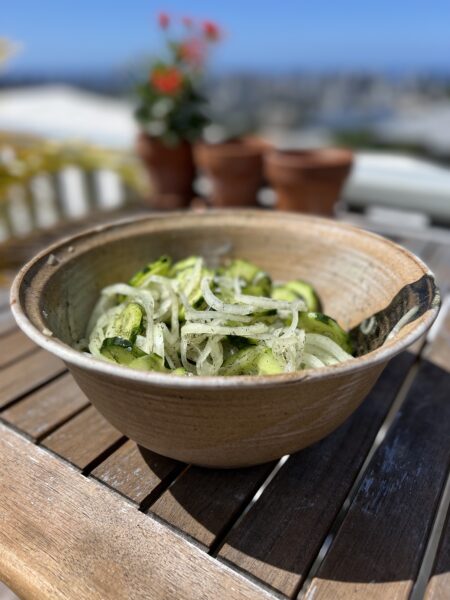 1 cucumber, partially peeled
1 white onion, thinly sliced
~ place in a bowl
dress with:
1/4 cup rice vinegar
1 Tbsp maple syrup
1 tsp dried dill
a shake or 3 of sea salt
Mix & marinate for up to 2 hours to overnight (gets better over time).
Morning Soaked Oats
Soaked oats don't need to happen overnight. All you need is a minute or two:
1/2 cup oatmeal
1 Tbsp chia seed
1 Tbsp date syrup
1 Tbsp tahini
pinch of salt
~ top with water, stir and soak for a minute and enjoy.
Leftover Rice & chili topped with marinated cucumber salad & a quick green drink
1.5 cups of leftover wild rice (have your foundational starches: Rice, Potato, Sweet Potato & Lentil/Beans on hand)
1/4 cup vegan bean chili – I used Annie's
Heat over the stove until hot – season with a little tamari or balsamic (or both)
Add your marinated salad onto and enjoy a super nourishing satisfying lunch.
Green Drink:
2 frozen bananas
1 frozen pitaya packet
2 handfuls of chopped kale
top with water – blend on high – pour and drink
~ perfect post meal in case you get a sweet craving after eating
Take great care and stay in tune xo
Katie