The Therapeutic Journey – Your Exclusive Membership
$89.00 / month
Welcome to the Therapeutic Journey. Our ongoing support page for:
accountability
inspiration
non-judgement
& growth
Description
Welcome to the Therapeutic Eating Membership! This is an ongoing container for those who participate in the Quarterly Body Reset and whom want to delve deeper into the Therapeutic Journey, reap the benefits of accountability and unravel ones own life story through the lens of food. In this group we do the following: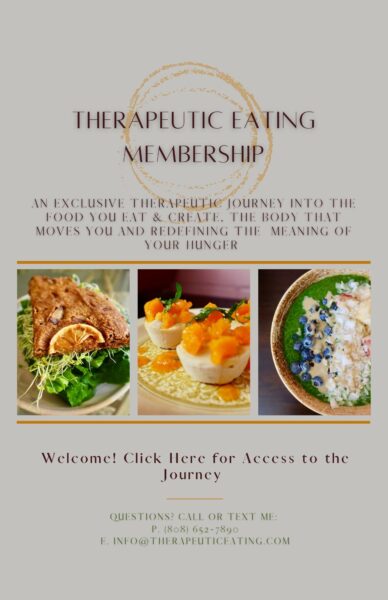 ⏚Weekly recipes, Live demos, Scheduled Room Chats & Virtual Group Hangouts
⏚Accountability – set your goal, we refer to that goal at the end of the week
⏚In this group we abstain from negative self talk, excessive scale use, rigid diet plans
⏚To the best of our ability we abstain from wheat/gluten, dairy, packaged/heavily processed food in order to grow self awareness and encourage body intelligence/intuitive eating
⏚The mission of the group is to sustain goals regarding health and deeper spiritual development
⏚Monthly subscription rate of $89 which includes each quarterly body reset for a value of $180 annually
⏚ Each quarter the reset will challenge us differently with new recipes, outlines, daily intake protocols etc.
⏚Encourage daily food journaling with provided templates
This image will be emailed to you with an active link you'll use to access our Private Facebook Group page which is where ALL THE ACTION HAPPENS.